Hi, Recruiter! Good to have you here! Need to correct or change something in a published position? Let's figure out how!
It's not ideal, but there may sometimes be a need to edit certain details, descriptions, or even pre-qualification steps.
IMPORTANT: The only field that cannot be edited is Candidate Selection Flow. After selecting a stream and posting the job, you will no longer be able to switch.
Everything else is possible!
How to edit your positions?
The first step is to go to the position management page and click on the three dots to the right of the title, then click on "Edit":
After that, the following screen will open: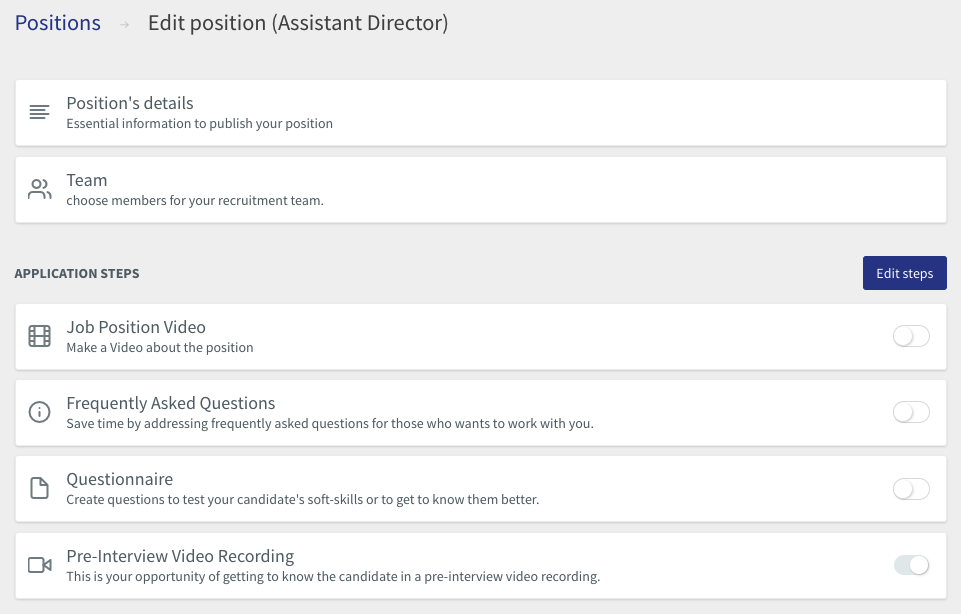 Simply click on the desired block and make the changes you want.
If you want to change the online application steps (Job Position Video, FAQ, Questionnaire and Pre-Interview Video Recording), you will need to click the "Edit Steps" button to enable editing:
After clicking on "Edit steps", the following warning will appear:
What does this warning mean?
Restart Candidates with Online Application in Progress: This means that only the candidates who are currently in progress will be restarted. Those that have already completed the application will not be restarted.
Inconsistent data from those with a completed application: This means that if any stage is changed after the position has received candidates, an inconsistency message will appear on the application tab, where the answers to the questionnaires are:
Therefore, we suggest that the pre-qualification steps are only edited as a last resort.

Got any questions? Just call our support team, we are here to help you!💙