Hi, Recruiter! Great to have you here! In this post we'll talk about your Hiring Workflow!
What is a Hiring Workflow?
This is a structure that leads candidates through the entire recruiting process from start to finish, reducing the pool of candidates until you have the desired number of hires. The selection flow aims to keep candidates engaged at all times.
In Plooral, this flow is reflected in your position's KANBAN.
Where can I find and configure my Hiring Workflow in Plooral?
In Settings → Hiring Workflow.
Tip: To access Kanban just go to "Positions" → choose the position you want to see and click on See Candidates.
Kanban:
In Settings → Hiring Workflow you will be able to create several Hiring Workflows – each position can have a different "Kanban"!
Each selection stream can (and should!) have different steps to reflect the specific process you want to follow for your different job openings.
When adding a new workflow, you will have to enter a FLOW NAME and the FIRST PHASE (you can edit the phases later).
As soon as you add your Hiring Workflow, you will be presented with a Kanban. In Kanban, you can add the rest of your phases, adjust the order, edit and delete.
Don't forget to SAVE!
AUTOMATION


What are the add automation buttons within Kanban phases?
You can add actions that happen automatically when a candidate enters a specific phase. When you move a candidate into a phase with automation, the automation you've set up will be carried out.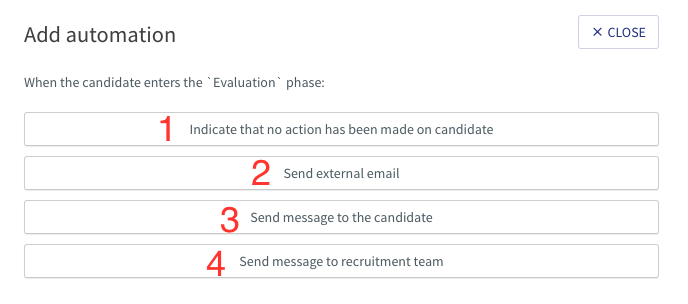 1. Flag if no action has been taken on a candidate: You can configure the platform to notify you when a candidate has been stalled in a phase for a long time. For example, if you set this deadline to 2 days, the candidate will have a red border after that amount of time has passed, as in the example below: Candidate Chadwick has been stuck in a particular phase for more than two days:
2. Send an external email: When moving a candidate to a new stage, an email can be sent to someone who is not registered as a user on the platform. For example, when moving a candidate to the "Contracted" phase, you want the person responsible for the Personnel Department to receive an email: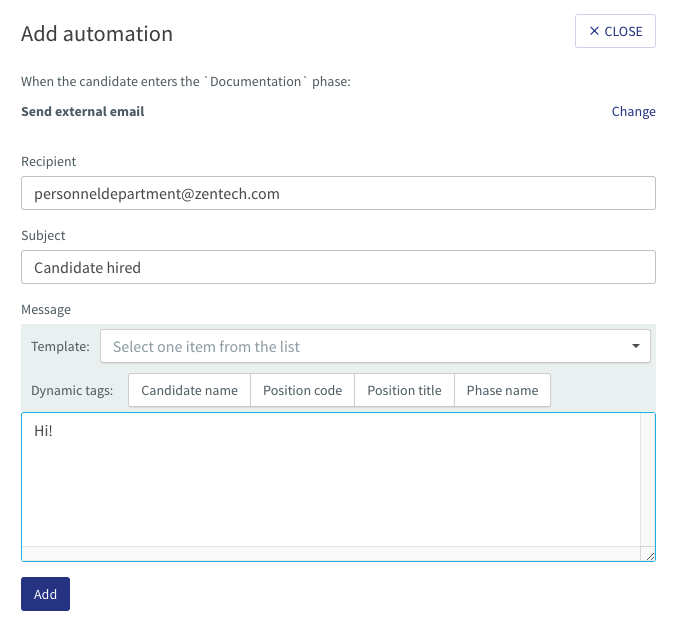 3. Send a message to the candidate: This is one of Plooral's most amazing features. You can send automatic messages to your candidates at all stages of the process, keeping them informed of the progress of the selection. This is a feature that keeps the candidate engaged and contributes immensely to their satisfaction. Here is an example of how to use this feature: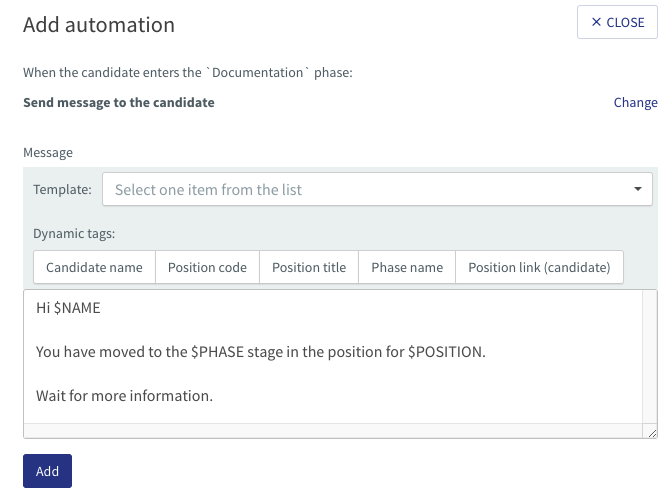 Tip: Use Dynamic Tags to customize your message. They will ensure that each message contains the candidate's name.
4. Send a message to the recruitment team: This automation ensures that when progressing a candidate to the next stage, a message is sent to all evaluators of that position, warning them that there is a new candidate for evaluation, for example.
Inserting a selection flow in a position
When you create a position on Plooral you will ALWAYS need to choose which Hiring Workflow you want to use for your position. In other words, you're going to be associating a position with a specific flow.

!!!!!! ATTENTION!!!!!!!
If you go to the settings and edit an ACTIVE FLOW, which is being used in several positions, ALL the positions that contain this flow will be edited.
If you delete a step where you already have candidates, they will be moved to the initial steps of your Kanban (Completed/Best Performance).
TIP: You can easily check which selection flows are related to a position or an Extended Candidate Profile. Just go to Settings --> Selection Flow, and check the information that appears in the highlighted place below:
Still having difficulties structuring your recruitment process? Just get in touch with our CS team, and we'll help you out!💙