Hello, Recruiter!
Creating a job position on Plooral is quick and easy!
TIP: Set up your FAQs and questionnaire templates, hiring workflow, hiring automations and other important features before creating your job position.
Ready to create your position? To begin, click on the "+" icon on the right hand bottom of your screen.
Now, let's begin by filling in your job information!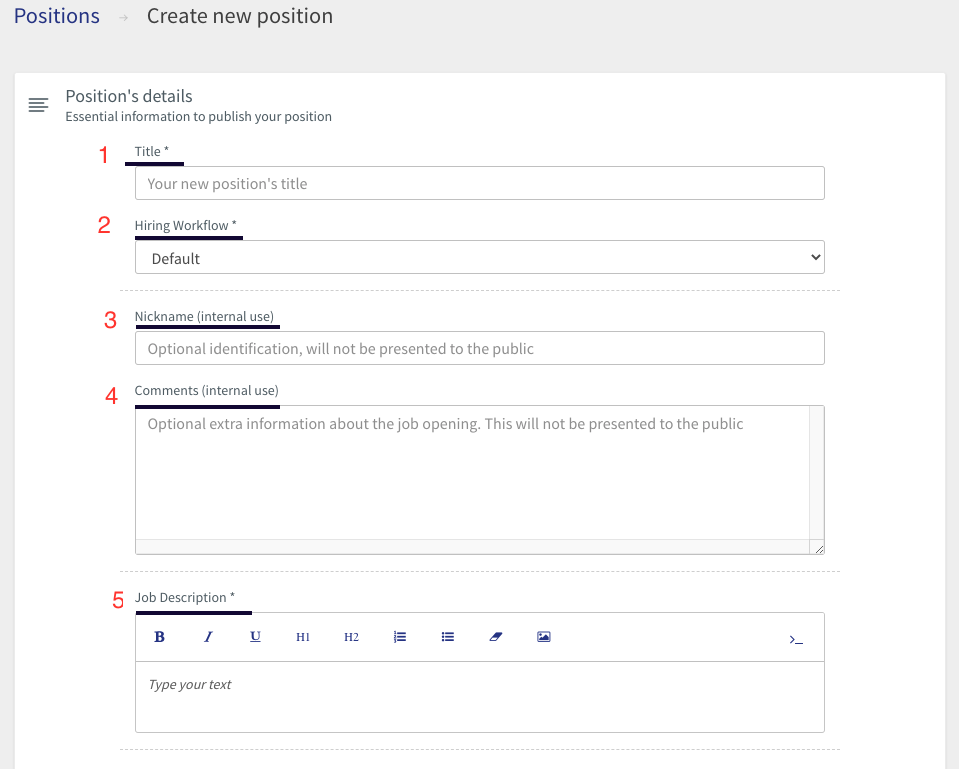 1. Title
We have some tips on how to create an attractive job title:
a) Keep the title simple: Focus on simplicity and accuracy
b) Make it relatable: Use terms that can be related to the job
c) Speak to outsiders, not insiders: Some companies use terms that are too specific to their organization. When creating your position, put yourself in the candidate's shoes and use terms that they can understand.
Avoid adding hyphens or other characters: This can affect indexing on job portals.
2. Hiring Workflow
In this field, you will select which hiring workflow you want to use for the position. The flow must be previously created in your settings.
3. Nickname (for internal use)
Add a nickname to your job so you can identify it quickly on your job postings page within Plooral. This nickname will not be presented to the public.
The hiring team participating in this specific selection process will be able to see this nickname (so be careful!).
We're here to make your life easier:
These nicknames will appear on your internal open jobs page.
→ HR Consultants: You can use this field to organize your clients' positions.
→ Companies: You can use this field to categorize your different teams or specific positions.
When you enter a nickname, the job posting date will be replaced by the nickname in your internal job page view.
4. Comments (for internal use)
Your internal comments about the position will appear right away when you click on the job posting in your internal job page view.
What is the salary ceiling? What type of candidate are you looking for? These answers and other important information about your position can now be added to the comments section.
5. Job Description
This is pretty self-explanatory! But we'll give you some tips anyways (:
Creating an attractive job description increases candidate engagement and conversions!
Here's a good foundation on how to build your job description:
Introduction about the role

Role activities

Role requirements

Benefits

Company information
6. Category
When candidates create their profile on Plooral, they are given the option to add their interests to search for positions that will align with their professional goals. When you categorize the type of position being opened, candidates can easily find the position based on their interests.
If it is a sales job, for example, the category should be "Marketing and Sales"
7. Department
Choose the department you're opening the position under! Remember to configure your departments in your SETTINGS -> JOB PAGE.
8. Reason for opening the position
It is an internal indicator that will reflect on your indicators dashboard.
9. Number of hires
This number should be the number of hires you need for the position you're opening (Ex: a sales position that requires 5 hires). It is an internal indicator that will be reflected in your indicators dashboard.
10. Label
This gives you the option to label a position. A label is a tag that can easily identify postings and filter them when needed. To learn more about labels,
click
here
.
11. Goal to fill
This would be the goal (in number of days) you have to fill the position.
It is an internal indicator that will be reflected in your positions indicators.
12. Make it private
If you click on this button, the position will NOT be shared on any of our integrated job portals or on our job App. The position link will be created for you to share only with candidates you wish to recruit.
This option is recommended for internal hires or headhunting positions.
13. Salary
In this field, you must enter either the salary range for the position or leave it as just "Competitive."
ATTENTION: Postings detailing salary range attract more candidates unless the offer is below market average.
14. Type
What type of job are you opening? You can choose full-time, part-time, contractor, temporary, internship, volunteer - amongst others.
15. Skills
Add all the requirements and skills a candidate should have for the position. You can type a specific word and press ENTER to save it as a keyword.
We recommend using these keywords as many applicants fail to read the full job description.
16. Languages
Add languages that the candidate must know.
17. Workplace
Add job location. Remember that the position will be indexed in different job portals within this location.
ATTENTION: Applicants from regions different from the one you selected will be able to apply. If you want to avoid this, add location as a requisite in your job description and throughout your application process.
18. Remote Work
Check this option if the position is remote.
19. Professional experience requirement
In this field, you can enter the desired number of years of experience the candidate needs to apply. Applicants will be notified when their level of experience doesn't match what is requested and they will be blocked from applying.
20. Education
If you select this option, candidates must describe their education.
After you've filled in all the job information...
It's time to add your hirin team!
Enter the names you would like to add to the position's hirin team.
ATTENTION: First you must add them as users to Plooral. To do this, go to SETTINGS --> USERS. Read more about user types here.
Now let's start customizing the position's online application process
1. Job position video
In this field you can add a video about the position or your company.
Videos increase your candidate's engagement and it's a chance for them to get an inside glimpse about your company. Add the video through a Youtube link.
Tip: Is there a specific video you'd like to show in all of your positions? Go to SETTINGS > VIDEO FEATURES IN ALL JOB OPENINGS
2. Frequently Asked Questions
Align job expectations and be transparent with candidates about your company or what you're looking for with custom FAQs!
To gain efficiency when creating a position, create your FAQs template beforehand.
To do this, go to SETTINGS > Frequent Questions (Templates).
3. Questionnaire
Use custom questionnaires to get to know your candidates better!
Plooral, gives you two types of questionnaire options: With AutoCorrection and Without AutoCorrection.
We recommend using Without AutoCorrection questionnaires for open-ended questions, or questions which response requires: files, images, links etc. With this option you can set a time limit.
We recommend using With AutoCorrection questionnaires for technical tests, or for right and wrong answer types. With this option you can also set a time limit and passing score number. By setting a passing score and time limit, Plooral will automatically differentiate candidates who passed the test under your criteria, in your position's KanBan board view.
Haven't created your questionnaire template yet? Go to SETTINGS > Questionnaire Templates

4. Pre-Interview Video Recording
This is your chance to get to meet your candidates through a pre-recoded video. Add which topic you'd like applicants to answer. Remember, they will only have 2 minutes to record their video, so do not add a lengthy topic.
That's it!
Your position is ready! Before you publish it, view it in preview mode to see how it'll be shown to candidates.
You'll also be able to save your position as a draft.
To edit an already published job, click on the 3 dots next to the job name and click "EDIT."
Attention!
If you edit any your candidate's online application steps (Job Position Video, FAQ, Questionnaire, or Candidate Video Recording) Plooral will restart on-going applicants to the beginning of the application process. Nothing will happen to completed candidates.
If you have any questions about opening a job positino, open a support ticket through your account and we'll be happy to help!💙