Hi, Recruiter! Great to have you here! In this post we will teach you how to create your questionnaires!
Questionnaires are the fourth step in the selection process.
This is one of the most strategic steps, as it is where you will test the candidate's profile and skills against the position requirements. Using questionnaires, you can test both the candidate's technical skills and their behavioral profile.
You can create questionnaires in two different places: directly within the position you are creating or in the questionnaire library in your account settings.

But what's the difference?
If you create the questionnaire within the position, you will "lose" this questionnaire after publication – it will not be saved for you to use later for other positions.
In the questionnaire library, you can create as many templates as you like to use AS MANY times as you like.
To create a new questionnaire, click on "Settings"→ ​​"Questionnaires (Templates)":
The templates you've created previously are available on the questionnaire templates page. To create a new template, just click on the + icon
There are two types of questionnaires: WITH or WITHOUT auto-correction.
QUESTIONNAIRE WITH AUTO-CORRECTION
Has a score
Has a time limit
Autocorrects
These are generally used to test candidates' knowledge about the position or activity to be undertaken. However, they can also be used strategically to facilitate the screening of candidates in positions with a very high volume of candidates. If you want to know more about this, call our support team.
To create a questionnaire with auto-correction, just select the option "With AutoCorrection":
On the Questionnaire page, we have a library of questions, and some templates for you to get inspired:
After selecting the desired questions and clicking → you can check the questions and answers of your questionnaire using auto-correction.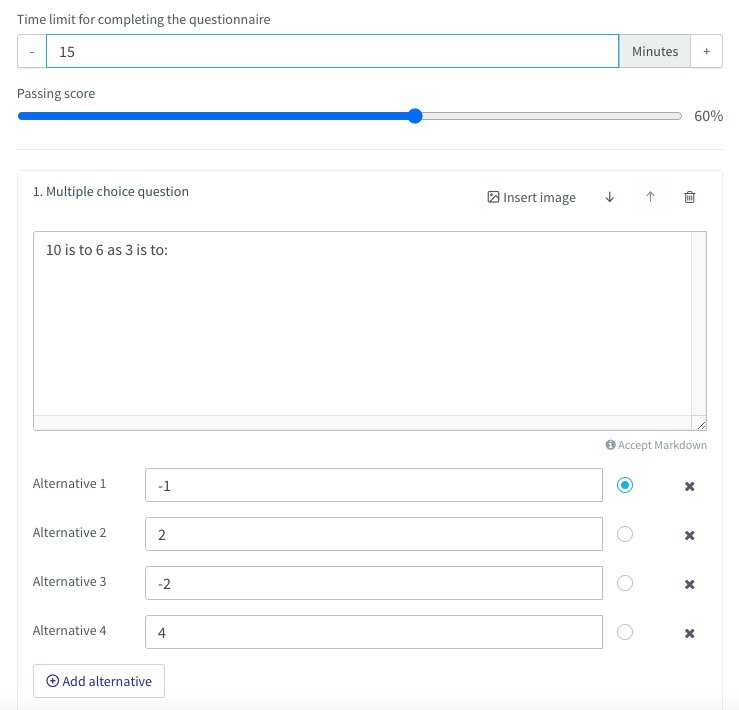 Candidates who complete the entire selection process will be available in your Kanban: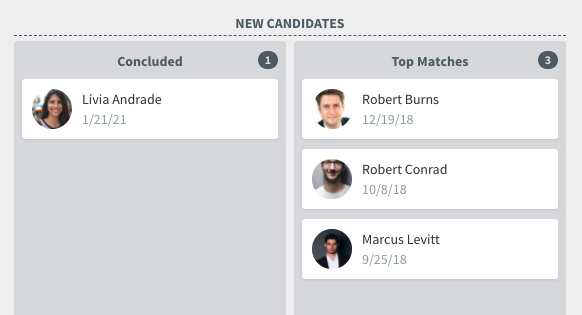 Tip: Questionnaires with Auto-Correction can also serve as a filter for your candidate searches. This is a very powerful tool for quick searches!
In the "List" view of your candidates, click on the "magnifying glass" icon:
Select the "Questionnaires" option to apply the filter:

Then just select the question with your answer to find the desired candidates!
QUESTIONNAIRE WITHOUT AUTO-CORRECTION
Questionnaires without auto-correction are there for you to get to know your candidates better! It gives them an opportunity to talk about what is not on their resume and what they can bring to the position!
Questionnaires without auto-correction do not offer self-correction or scoring, but they do have a time limit! Applicants can upload files in their response up to a maximum of 12MB – if their file is larger, direct them to send a link to share the desired files.
Tip: We recommend that your job position have at least one test WITHOUT open-question or multiple-choice feedback, to better understand your candidate and his/her professional experience, and at least one technical test WITH feedback (related to the job in question), to assess your candidate's technical skills.
Attention! You cannot mix open questions with closed questions. But you can change the order of the questions for each type of test.
Any doubts, just get in touch with our CS team, and we'll be happy to help!💙