Hello, Candidate! It's great to see you here!
Some companies choose to add a video step to their application process, and we know that many of you have questions about it.
You have 4 options to record a video and complete your application for the vacancy:
In the Plooral app, if you are applying via mobile
Using a webcam on your computer
Using your smartphone camera when you're applying on your computer
Uploading a finished video from your computer
Recording in the App:
After completing any questionnaires (if your position includes this step) you will be taken to the video recording page. Just click "Record Video" and make a recording on the subject specified by the recruiter, and then click to submit.
To record again, click on "Redo", as shown in the screenshot below. You can redo your video as many times as you like.
If you are applying on a computer, the video recording step will offer you the following three options: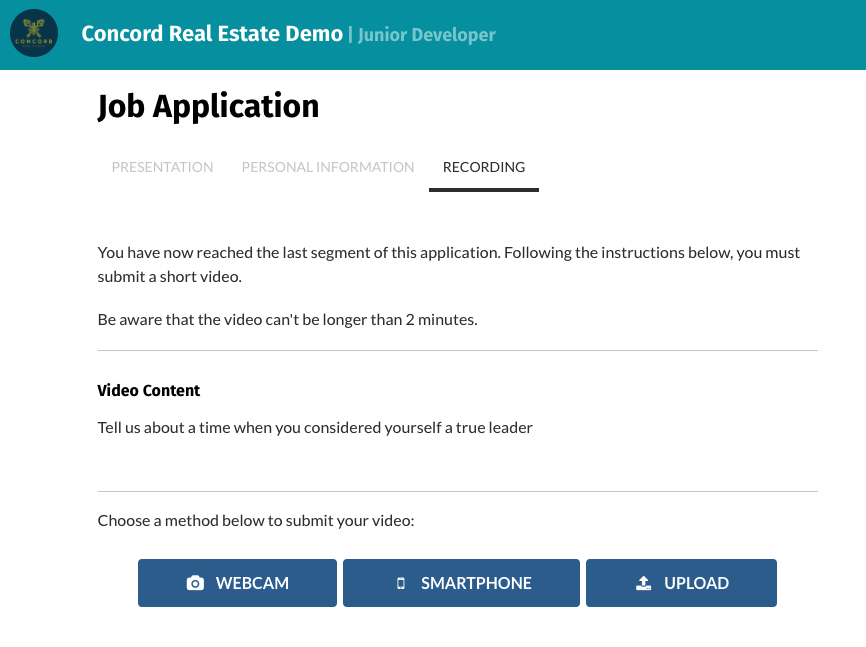 Via WebCam
This option allows you to record a video directly with your computer's camera.



Via Smartphone
In this option, you can use your cell phone camera to record the video and finalize the application. Click "SMARTPHONE" and use your phone's QR Code reader to record the video:
Important: Review your app's settings (go to Settings/Settings) and check whether the app can access the camera and microphone.
Video upload
By clicking on "UPLOAD" you can select a video from your files:
The video should be no longer than 2 minutes, with a maximum size of up to 100MB.
If you are still having difficulties, open a ticket to our support team!💙